FlashRouters Privacy App
The easiest way to connect to the best VPN services from your router.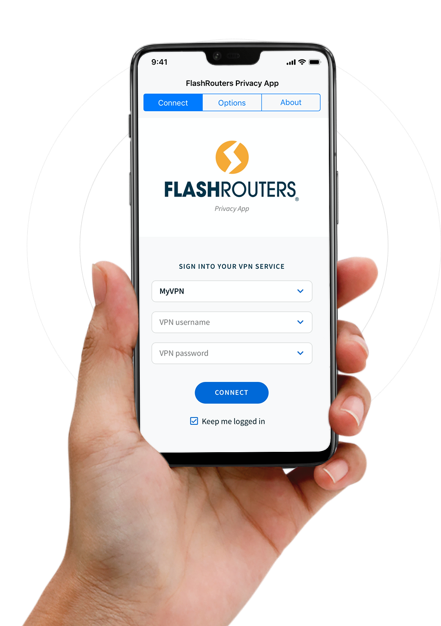 Works on all devices
Runs from any internet browser, desktop or smartphone.
Ready out of the box
App is pre-installed on every FlashRouter.
Security for everything
Expand VPN compatibility to all devices, even without native VPN support.
What makes a router with the FlashRouters Privacy App different?
Complete security on all devices
The FlashRouters Privacy App works just like an app for Android, Windows or Apple iOs except it's located on your router. And there is no separate app to install. However, when you connect to VPN with the FR App, you're not only securing your computer, you're also securing every device in your home at once. Simply enter your VPN login information, search for your preferred VPN server location, and click Connect to get started.
Setup Simplified

Instead of setting up your VPN on one device at a time with different instructions for each device, you only need to setup your VPN once with the FR Privacy App.

If your VPN provider limits the number of simultaneous connections to their service, you can use just 1 connection for a FlashRouter to cover ALL devices in your home with no device connection limit.

Certain devices like streaming players, gaming systems, and Internet of Things (IoT) devices do not have native support for VPN client connections. These devices need security too, and with the FR Privacy App all devices that connect to your home network can now connect through your VPN service.
VPN privacy made easy
No more struggling with confusing installs or instructions that end up not working!
Complete control at your fingertips
Simple controls to get your WiFi fully secured
1
VPN Privacy App
Exclusively created and maintained by FlashRouters.
3
Choose Your VPN & Login
Not locked to any one provider
2
Launch App
A one stop VPN App experience for full device control
4
Select Your Location
Pick your preferred server from the live updated list
Selectable Servers
Searchable and selectable server locations sortable by distance, server location, or time.
Auto-Connection
Get a VPN connection instantly when you connect to the internet, whether it's fresh out of the box or just been rebooted.
Global Kill-Switch
Block Internet access if the VPN connection is not active on the router. Even if you lose connection, Global Kill switch ensures your ISP IP is safe.
Customize Each Device
VPN with Kill-Switch, VPN without Kill-Switch, or VPN-Bypass.
Easily Manage Connections
View a list of all connected devices on your network and easily edit the names of your devices for your convenience.
Customize Rules
Setup rules over hosts and websites.* Turn VPN on and off however you like. *Excludes streaming services.